We have a lot of high-powered equipment at our downtown studio. Because of this, we are always interested in renewable energy. An Australian company is currently building a new green power source in Arizona that combines wind and solar energy. It's called a solar tower and it could be the energy of the future.
Recently, we made videos for two local solar energy companies and hope to work with them in the future. The videos can be seen inside this article.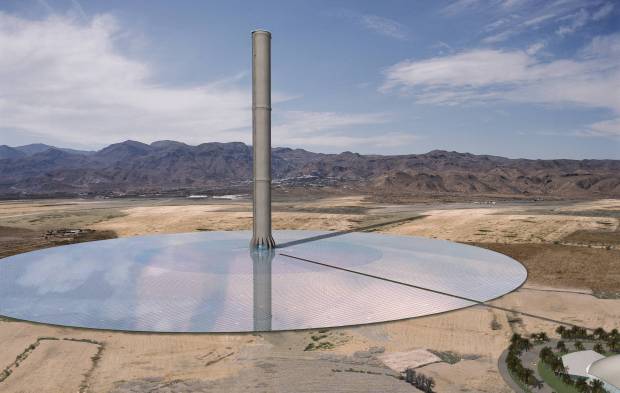 At Blue Tiger Studios, using professional lights and high-powered computers we have the potential to use over 15,000 watts of power at the same time. That is one reason why we are always interested in renewable energy.
We hear the term "renewable energy" a lot today. And we most commonly think of wind, water, and solar power. But a new concept is combining wind and solar power to create an efficient and completely green type of energy.
An Australian company, called EnviroMission, designed what they call a solar tower– a massive power source that relies on solar energy to create wind. Earlier this month, Arizona took impressive green energy initiative in approving the construction for a solar tower, which is expected to be completed by 2015 and will produce power for 150,000 homes for 80 years.
The concept behind the solar tower is relatively simple. The tower would be massive, over twice the height of the Empire State Building, to create a vast temperature differential between the top and the bottom of the structure. Surrounding the tower would be acres of solar panels which would send heat to the ground level of the tower. The chimney effect, which says heat will rise, will cause the air to rush to the cooler part, or the top, of the tower. Essentially, the solar tower is creating its own wind. Inside the tower are wind turbines which would rotate, thus creating energy.
Not only would the solar tower be environmental friendly, it would also be cheap to maintain. Once the tower is built, EnviroMission says it would cost absolutely nothing to run. There is no feeding stock. There is very little maintenance. It just uses the sun.
However, there are some drawbacks to this new technology. It can't be built just anywhere. The tower needs plenty of solar panels and obviously prefers to be in a hot location that gets a lot of sun. Construction is also costly. At $750 million, it would take about 11 years of running to pay for itself.
The new concept is definitely cool. Or maybe hot? And we love to hear how people are using clean energy.
Check out the nifty video they have produced to promote their ideas:
Recently we began making some informative videos for some solar based electric companies. Keares Electric, is a central Pennsylvania electrical contracting company that has began the "Coatesville Solar Initiative" (CSI). CSI is pushing to install a 40 acre solar farm next to Coatesville High School. The solar farm will be used to power the school entirely, giving them a reduced rate. The solar farm could also potentially power a lot of the Coatesville VA hospital as well. We have been shooting some informative videos for them to educate people on the benefits of the program.
Paradise Energy Solutions is located in Gap, PA, and they specialize in the installation and maintenance of solar panels for homes and businesses. We have helped them with video on some of their informative presentations and testimonials with successful clients they have worked with.
Hopefully the solar and renewable energy movement keeps its momentum here in PA, we would love the opportunity to make some high end, entertaining videos with more of the WOW factor for some of our local clients.
If you have any questions about CSI (Keares Electric) or Paradise Energy, check out their websites to learn what they are doing to improve our planet and save people money on electric costs.
How do you try to reduce your carbon footprint?